Bicyle touring or a Cycling gite in France
Have you tried bicycle touring in France where you stay in a different hotel or B&B everynight? Did you find the constant change of bed more exhausting than the cycling in france?
Why not try a cycling gite in France where you stay at one self catering gite and choose which cycle routes you want to ride on which days. If you decide you do not want to cycle on a particular day take the day off from cycling in France and spend the day by our 12m x 6m heated swimming pool. Alternatively you could spend the day fishing (see our 'french fishing holiday' page) or enjoying the other local activities available (see our 'activities' page).
The advantage of a cycling gite in France is that we still have varied scenery with the huge choice of cycle routes available but you also get the use of a 2 bedroom apartment which sleeps 4 at rates of just £350 per apartment per week in May, June, September and October (pool closed April and October and only heated in May if weather permits).
It is also possible to hire both our ground floor apartments 'La Baise' and 'Le Lot' giving a group size of 8.
Cycling holidays at Aquitaine Gites are great value.
French Cycling Holiday Special Offers August and September 2017
La Baise - 2 bedroom apartment for 1 week 26th August to 2nd September. Normally £550 now £415 (£135 discount).
La Baise - 2 bedroom apartment for 2 weeks 2nd September to 16th September. Normally £700 now £600 (£100 discount).
All bookings include linen, towels (including pool towels) and a welcome pack.
Further information on our winter let rates (electricity extra) can be found on our 'Winter Lets' page.
Temperature chart for Villeneuve sur Lot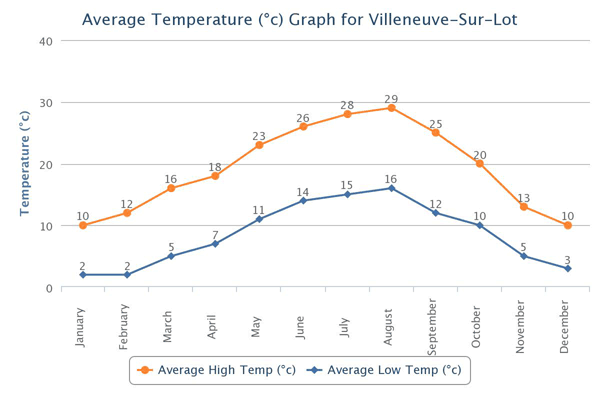 French Holiday Testimonials
The cycling tracks have been a marvel. Many a sunny morning has been spent heading to the bakery in Casseneuil. Then on to St Livrade on the river Lot. Great scenery which is extremely safe for novice cyclists. Max (6yrs) and Tris (8yrs) were very happy with the lack of car traffic.
Nicola, Tim, Tristan and Max (Le Lot August 2010)
We hired bikes (2) (and brought 3 of our own) for a three day period and cycled endlessly on the voie vert (cycle track) and beyond.
Marie, William, Adam (10), Ciara (8) and Anna (6) (Le Lot July 2012)
We've also done a lot of cycling - both on the cycle path along the river Lot and north into the hills to Ledat and St Pastour - wonderful quiet roads and great scenery!
Rob, Alice, Tilda (6yrs) and Cicely (3yrs) (La Baise August 2012)
We loved the birdsong and the position so close to the voie vert (cycle path) was perfect for us as leisure cyclists. The Friday morning rides to the wonderful market at St. Livrade were a highlight. The waymarked 'randonnees' (cycle routes) through the fields and orchards and quiet lanes at Magnac, Cassignas, Penne d'Agenais were close to perfect.
Sally and Clive (La Baise April 2013)
We have some very special holiday memories to take home with us. The Col du Tourmalet was the cherry on the cake (Adrian).
Yvonne, Adrian, Becky & Lucy (10yrs)(La Baise July 2013)